Working with trained, insured and certified professionals to make sure the job is completed in the best way possible.
Certified Arborist Reports
24 hr Emergency Service
Insurance Claims
Spider Lift Service for high risk trees
Large scale crane assisted tree removals
Hazard & Dangerous tree removal
Trimming & Pruning
Stump Removal
Lot clearing for build sites
Conservation/woodlot area management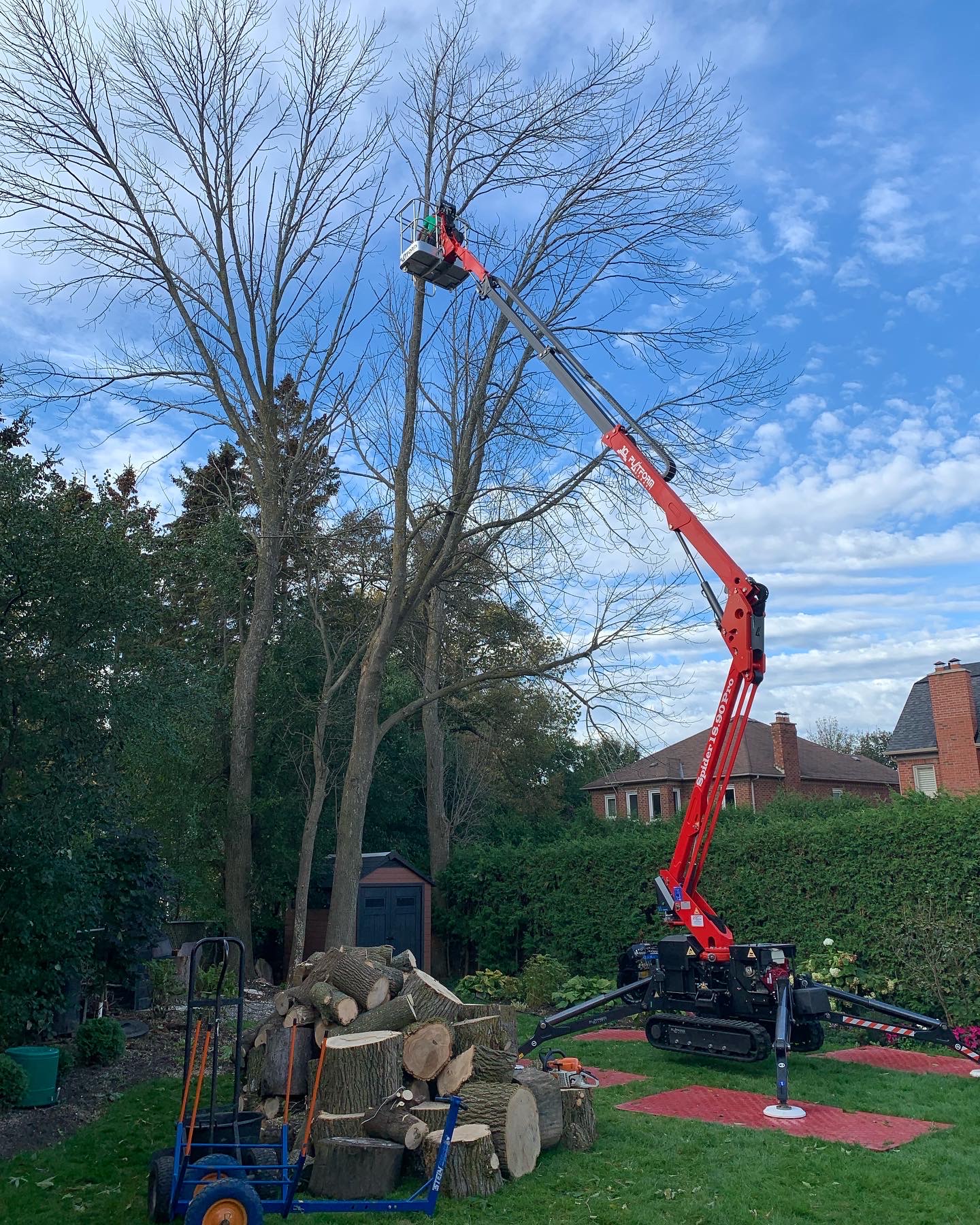 Trevor Ash is an ISA Certified Arborist.  His passion and knowledge working with trees is strong enough to take on any project.  Concerned about your trees, email us to set up a consultation.
Environmental Landscape Management, Seneca College
ISA certified, International society of Arboriculture
Arboriculture Canada Training modules

"Trevor is an awesome person, and professional contractor! Needed a Tree removed, and the stump grinded in front of my house. Scheduled a meeting with him to come out and take a look at the job. He assessed the work, in terms of how long it would take, his availability, the appropriate actions to take with city, and estimated the cost (which was very reasonable). Everything agreed upon was delivered with full satisfaction, I couldn't ask for more. If a friend ever asked for an arborist recommendation, he would be mine. For anyone reading this, he comes highly recommended."

Billy Hsu
"I was two weeks away from closing the sale of my house when a wind storm blew a tree down. The arborist from the insurance company would have taken months to remove the tree so I called Trevor. He and his team understood my situation and can within the week to remove the tree. Everyone was happy and the new home owner was able to move in as planned. I can't recommend Trevor and Ash Urban Forestry enough!"

Steve
"Had Trever from Ash Urban Forestry come to assess a few trees on our new property (he came from Keswick to Scarborough just for the assessment). He was extremely helpful in identifying which trees should be removed now due to decay and which should be pruned. He provided a detailed estimate of the work and Arborist report promptly so I could get a permit. Once I received the permit Trevor and the team quickly arranged the removal of the trees and did some other work at the same time. It's been a great, worry-free experience. They cleaned up after they were done and the quality and care is noticeable. I highly recommend them!"

Paul
"We have a large tree in our back yard that needed to be trimmed back, away from my house and my neighbours house. Trevor from Ash Urban came and gave us a quote, and gave us recommendations on what needed to be done, and what wasn't needed. He was very professional and very affordable and fair. He gave us a quote immediately. He gave us a date and arrived ON time and had the job done well within the time frame that he stated. His crew was very efficient and the clean up was immaculate. I would highly recommend Ash Urban for this type of work and to be honest, I have referred them to 2 of my neighbours already and they were very happy with them too."

Dan J.
"The application to obtain a city permit was completed for me with complete and clear instructions on the process of removing a tree from my property. The work was completed as scheduled without any disruptions. I will be using Urban Ash Forestry for other landscaping/tree projects at my home."

Leslie
"Trevor and Marcus were phenomenal! They provided me with an exact quote and went beyond what other arborists quoted me. They arrived early and completed 4 trees in approximately 3 hours. Their quote was very good, but the service and care they bring with them is what makes their service amazing. They are respectful, knowledgeable, tidy, and efficient. I will definitely use them again in the upcoming years. Thanks so much for taking care of my property."

Davis
We are happy to come provide a free estimate but we require some information first. Please fill out the form below and we will get back to you shortly.
Feel free to contact us directly with any inquiries:
[email protected]
(416)-875-8626
ASH URBAN FORESTRY
336 METRO RD N KESWICK ON L4P3C8